There's no doubt that a quality cold air intake is one of the quickest ways to boost your vehicle's performance, intake sound, and even improve fuel economy. But with so many systems out there it can be tough to know which one is best for you.
Sometimes you have to rely on the stats the manufacturer provides. But not every cold air intake is tested the same way. And real world performance doesn't live up to the claims.
That's why Cold Air Intakes does real power testing that results in real power gains. But don't take our word for it, check out this video of DiabloFormula Racing installing one of our products and decide for yourself.
---
The TrailBlazer SS Cold Air Intake Install
DiabloFormula Racing has had some great results from Cold Air Inductions intakes in the past. So much so that they became a vendor for the brand. And seeing as they know just how good CAI cold air intakes are, Andy ordered a full intake kit for his girlfriend Steph's Trailblazer SS.
Vehicle Specs
Chevy Trailblazer SS
394hp 6.0-liter V8 (when stock)
K&N Air Filter
Rebuilt transmission
Stall converter
Modified headers and pipes
Upgraded cam
As a testament to how quick and easy the install is, Andy decided to do the entire job on a freezing day out in the snow. While it was snowing. Try that with a any other competitor's product.
Cold Air Intake Kit Details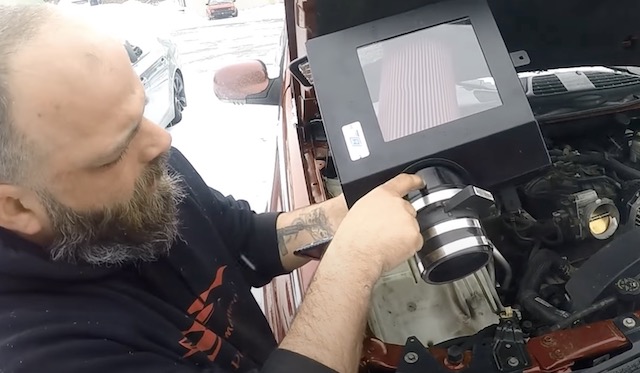 Every Cold Air Inductions kit comes with everything you need for a hassle-free install. And every component is built to the highest standards. We use OEM-quality fittings and keep all original sensors.
Andy also mentions the different styles of intakes available from CAI, with the option to go with a chrome or satin black finish:
"Personally I think the satin black finish looks better – it just looks cleaner because the inside of the engine bay is black and the cover is black – so that's why we went with the satin black."    – Andy, DiabloFormula Racing
CAI intake kits feature:
An inspection window to check reusable air filters
Powder-coated aluminum parts to reduce intake temps
Air boxes designed to maximize cold airflow
OEM-spec fasteners and connectors
OEM sensors are reused
The Install
"[The CAI intake] is a simple set-up. It literally took 10 minutes to do."  – Andy, DiabloFormula Racing
To start with the Mass Airflow Sensor (MAF) is disconnected. The plastic engine cover is removed and then the original plastic intake cover is unscrewed. The Trailblazer already had an older K&N air filter installed which Andy removed. He also took out the screen from the MAF to further improve airflow.
The next step was to place the CAI filter and housing into the engine bay. Andy was surprised at just how easily it slotted into place. Bolting it down took just a few minutes and then it was time to fit the piping and connect it to the intake manifold. Then the vacuum hose was fitted, the MAF sensor reconnected and the plastic engine cover screwed back on.
The entire installation process took just 10 minutes. And the only tool required was a screwdriver. Not bad for an upgrade that delivers 14 rear-wheel horsepower, and improves the intake sound and fuel economy.
Give Your Vehicle The Intake It Deserves
To give your Chevy Trailblazer a performance boost, check out our cold air intake kits here:
Cold Air Inductions offers the Elite Series intake systems for the perfect upgrade from an OEM setup. For the biggest gains, you'll want our Carbon Elite Series systems. Just like the one Andy fitted to the Trailblazer SS.
Cold Air Inductions is a leading manufacturer of cold air intakes. And we stand by our products with a lifetime warranty. Get in touch with our team to order your kit today.
https://www.coldairinductions.com/wp-content/uploads/2017/03/Capture-1.png
436
847
James Newsome
https://coldairinduc.wpengine.com/wp-content/uploads/2018/02/Cold-Air-Induction-Systems.png
James Newsome
2023-07-13 19:29:00
2023-08-07 14:43:22
DiabloFormula Racing Installs CAI Intake And Gains 14 RWHP